Solar Shades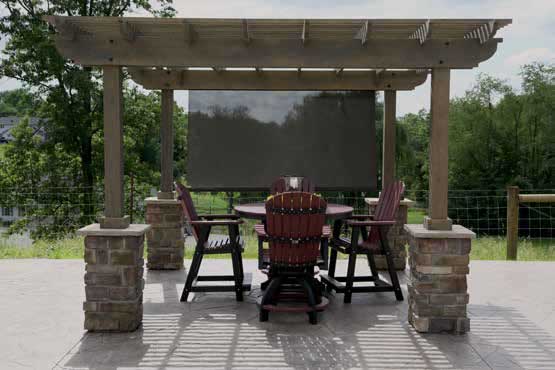 Custom Solar Shades offer a stylish and modern aesthetic for window treatments that minimize the harmful effects of the sun, while allowing visibility.
Natural light enhances the function of any room with proper sun management. Phifer's SheerWeave fabrics are designed to provide high performing solutions to the sun's harsh rays. A broad range of sun control fabrics reduce solar heat gain, protect against damaging UV rays and improve the comfort of your interior space. Suitable for the home, office, hotels, hospitals, schools and retail locations SheerWeave fabrics are durable and easy to maintain. Quality made in the USA, SheerWeave fabrics perfectly complement your decor.
Lengths 96" to 120" also available, Call 330.674.2590 to order.
Motorization:
All shades over 20 inches can be motorized. Rechargeable battery motor. We offer a Charger + Remote option, almost anyone who adds motorization will want to add this.
The Remote has 15 channels, meaning you can operate up to 15 motorized shades with one remote. The Automate Li-ion series a built-in, re-chargeable battery powered range for motorized shades!
To support the Automate Li-ion range, programming our wire-free motors has never been simpler with the remote controllers and/ or the Automate App. The optional Automate Solar Panel Charger generates energy even in indirect and low-light conditions.
Leveling Control
Simple limit setting and adjustment
Favorite position
3 operational speed settings available
2 way RF communication
Rechargeable built in Li-ion battery
Optional solar powered charger
Over 500 up / down operations on a single charge (based on recommended maximum shade sizes)
ARC™ protocol featuring efficient programming, battery power conservation and bi-directional communication
Indoor/Outdoor Shades:
The Solar shades can be used both inside and on outdoor structures such as gazebos and pergolas.
Cleaning your Solar Shades:
SheerWeave fabrics are easy to maintain and may only require an occasional dusting. If further cleaning is needed, use a mild detergent and water applied with a soft cloth and rinse thoroughly.

GREENGUARD Certification:

GREENGUARD is an indoor air quality certification program for low emitting products. GREENGUARD tests products' chemical emissions by evaluating over 75,000 chemicals, including volatile organic compounds, carcinogens and reproductive toxins. All SheerWeave fabrics are GREENGUARD certified.
Here Is What Our Customers Are Saying:
"Convenient & Carefree"
"The blinds are strong & no blinds flying up! I love the Sheer Weave."
"Your blinds are the best and last forever! Thanks for all the good work." Anita M.
"So far,so good. I liked the samples shown to me on the office window there." - David Y. - Dundee, OH
"You have a very nice, neat, good quallity product with good service. Thanks for helping us have a beautiful home! We will be ordering more in the future, probably a few at a time until we have the blinds all changed in our house." - Elmina W.